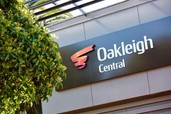 Located around 15 kilometres from the CBD, and offering easy access via the Monash Freeway or Princes Highway, Oakleigh is a diverse, cosmopolitan and well-developed suburb in the City of Monash. Surrounding suburbs include Chadstone, Murrumbeena, Bentleigh East, Huntingdale and Oakleigh East. Parkdale Beach, and Port Philip Bay's waterside and lifestyle opportunities, are just a 15-minute drive away along Warrigal Road. Oakleigh is home to thirteen parks, which cover just under 8% of the total suburb's 3km2 area, and world-class golf courses, which support endless leisure and recreational pursuits.
Oakleigh's large, historic central business and shopping district, which spans nine blocks, has a vibrant, inner-city feel. Atherton Road, which comprises some multi-story buildings, is its commercial main street. Nearby Drummond Street, its former civic spine, contains many older commercial buildings, including banks and retail complexes dating back to the city's early days, and now comprises a police station, primary school, public library, RSL, Community Hall and historical centre (Monash Federation Centre), cemetery, football ground and park.
Eaton Mall, which connects Atherton Road to the large Centro Shopping Centre and Oakleigh Railway Station (Cranbourne and Pakenham lines), is a popular activity centre with locals. It, and its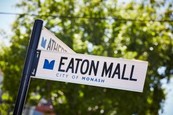 surrounding streets and laneways, is renowned for its convivial, multi-cultural café and restaurant culture, traditional Greek foods, delis and cakes, abundant seafood and the Oakleigh Market. Comprising a strong community atmosphere, the thriving shopping district is also home to many butchers, bakeries, beauty salons, and specialty shops, many situated in charismatic 1920s buildings. A smaller commercial area has developed along Dandenong Road, with both centres enjoying ongoing development.
Oakleigh is just 1.5 kilometres from Chadstone Shopping Centre, the 'fashion capital' and the largest shopping centre in the Southern Hemisphere. The suburb is also the hub of a large component ofMelbourne's eastern bus network. There are two schools and one childcare centre, with households predominantly comprising couples and their children. Nearby Monash University (Clayton and Caulfield Campuses) and Holmesglen TAFE (Chadstone and Moorabbin Campuses) offer tertiary education opportunities.
Oakleigh and surrounding suburbs offer a wide range of both residential and commercial/industrial properties for sale and lease. Spacious residential streets comprise both contemporary housing and charming period homes on generous allotments, while Atkinson Street is a tree-lined boulevard and one of Oakleigh's most highly sought after residential addresses. Median house price growth of 81.7% over the past five years to September 2010 indicates excellent future growth potential.
Population: 7535 (2011)
Postcode: 3166
Area: 3.5 km² (1.4 sq mi)
Oakleigh House: Median price $999,000, Annual capital growth 10.01%, Number of sales 71, Weekly median advertised rent $440
Oakleigh Unit: Median price $600,000, Annual capital growth 7.59%, Number of sales 40, Weekly median advertised rent $388
Location: 15 km from Melbourne
LGA: City of Monash
State District: Oakleigh
Federal Division: Chisholm, Hotham