A real estate office doesn't become the biggest and most successful agency in the region by accident. It achieves this position and recognition through a visionary approach to real estate, committed work, and ongoing training and professional development for achieving optimal client success.
Ray White Oakleigh's multi award-winning sales team comprises some of the most reputed sales consultants in the country. They have immediate access to a large database of ready buyers, utilise every available resource to
maximise clients' opportunities, and deliver on promises. Their highly personalised service and attention is based upon the honesty and respect clients deserve. They are officially recognised for their achievements through regular, prestigious industry accolades.
The high profile of the sales team means that Ray White Oakleigh is buyers' first port of call. The prominent corner office, and its eye-catching five-storey presence, is positioned for high visibility and easy access, while extensive marketing through both conventional and cutting-edge mediums dominates competitors, resulting in a much broader number and variety of potential competing buyers.
Complementing the successful Sales Department are the multi award-winning Property Management and Commercial/Industrial Departments, which – together with In-House Finance, Ray White Insurance and associated services – provide a one-stop-shop for managing all real estate transactions in the most efficient and profitable way.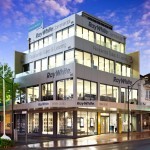 There are many ways to measure success. Ray White Oakleigh is dominant in both sales volume and value, achieving an exceptionally high sales success rate and auction clearance rate of more than 90%. However, the true measure of success is client satisfaction, which is evident through the extraordinarily high proportion of business that stems from personal recommendations, and the number of repeat clients who return to Ray White Oakleigh time and again.
Both Jeff and I would like to thank you and let you know we were very pleased with the result of selling our property… We were surprised with the price…. It was the best record for Oakleigh South! We found you friendly, helpful, patient and willing to assist… and would be more than happy to recommend your services to any friends, family and neighbours if they are thinking of selling their properties.